2012
As the year starts out, I am still trying to dig myself out of lethargy and depression; I examine my Goals and try to get back on track and stop sleeping in so late.  I create and start using a "31-point plan" – again hoping I keep it up.  I've decided to hand-draw it this time.  Hopeful that I can get the house cleared out and organized with my sister's help.  I am very grateful for her help; it feels good to see progress and tires me out enough so that I am sleeping better.
My son is having a tough time at school this year and has been home sick a lot.  It seems there are some kids – who apparently have significant issues – who are making school a nightmare for Dalton.  I make it my business to report this situation and try to get things straightened out.  It is unfair that there are some children who know no better than to torment others.  I will do everything I can to prevent my son's school experience from being compromised like this.  (As if things weren't hard enough around here already…)
Then suddenly, EVERYTHING CHANGES…
The decision has been made for my brother-in-law to move out of the house he shares with my sister; they have chosen to separate.
Because they own two houses – the one they now live in, and the one that I have been living in and renting for the past 8 or 9 years – and because I have become unable to pay but a portion of each month's rent recently (and am thus becoming more and more indebted to them), it apparently makes sense for my brother-in-law to move into my former residence, and for my son and I to move in with my sister.  WOW.
There is, of course, a bigger story than this.  But suffice it to say that this may be the best decision – the most INSPIRED decision – that my sister has ever come up with, on multiple levels. 
Suddenly, the scope of my "house clearing" project has changed.  We are still trying to sort through and take care of my mother's possessions.  But now, at the same time, we are also going through my things and making decisions.  There is now an urgency to get this done.  My brother-in-law is anxious to get into this house; he wants to remodel it substantially and I am in the way.
A large debris bin has been rented and is now parked in my driveway.  This makes me a bit uncomfortable – Ken has always been anxious to throw my stuff away it seems; he is somewhat strange that way.  My sister and I work diligently on taking loads to the Goodwill and packing boxes to bring to her house/my new home.  And yes, we do throw away what needs to be thrown away, but the debris bin is not filling very quickly- UNTIL THAT DAY.
On March 10th, we move into my sister's house.  PROBLEM:  Until our former residence is cleared out completely and Ken is able to renovate it according to his wishes, he is still living in THIS house.  It is rather AWKWARD.
And I have, again, started smoking.  The stress, combined with just being around my sister who smokes, causes my commitment to crumble.  I swear that I will quit again soon though! 
My sister and I work over there as much as we can, and my brother-in-law works over there each weekend doing his renovation and remodeling (involving tearing down walls, pulling out bathroom fixtures, etc., etc.).
Meanwhile, my car will not pass SMOG.  The repairs are way too expensive.  I inquire into the government's assistance program but it seems it isn't currently funded – what to do…  I do all the administrative things connected with moving – address change notifications, etc., and get myself an iPhone.  Dalton has Spring Break.  And we work every day at the old place, sorting through things, packing boxes, loading up the car, trips to the Goodwill, trips to- and unloading boxes at the new place.  We clean everything as we go.  It seems a never-ending job.
And, at the new place, well… it is hard to acclimate to a place when the former inhabitants are still there.  I had nowhere to be in the house that felt like it was my home – except my tiny bedroom.  And until Ken's furniture was moved out of the den/family room, I had no office.  I had to set up my computer on a small table in my bedroom and work sitting on my bed.  Awkward, like I said.  My son never left his bedroom unless necessary.  My sister was not a happy camper.  Awkward.
And then my car bit the dust.  The power steering went out.  The cost of repairing that, along with the other necessary repairs – in particular, in order to pass SMOG and register it – much exceeded the worth of the car, as well as my paltry budget.  I had no choice but to let it go.  I looked at what the car might be worth to junk dealers.  Possibly… but then I was advised to run an ad on Craig's List specifying it as a "mechanic's special."  I listed it for $1000.  I had little belief that anyone would pay anything for it in the shape it was in.  But…
The day after I ran the ad, I sold it – for $500.  Cash.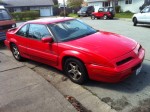 GREAT!  Except… now I had no car.  Goodbye to independence and autonomy.
My sister now had to provide me with transportation.  This did not make me feel very good.  I am grateful that I had this option and that my sister was able and willing (and that her poor old Jeep was up to the job!).  But never in my adult life had I been without a car of my own.  Never have I had to rely on someone else for basic transportation.  It was quite a blow.  First I lose my home, then my car and my independence.  
Throughout March, and April, and on into May, Ken is still working over at the house every evening and weekend with still no sign of moving out of here and into THERE.  We are all living in a much compromised situation.  I finally get my desk set up in my new office space in the den – but feel that I need to clear out whenever Ken is home and wants to sit in here and watch TV.  I do not feel comfortable.  My sister still has to provide my transportation.  Luckily though, I am managing to sock money away in my "car fund" every month.  Most of my belongings are still in boxes in the garage.  But how can I put anything away until Ken moves his stuff out?  I do what I can as best I can and make do with the rest.  Some day…
I fill out paperwork and obtain medical records to get my son enrolled and ready for Junior High School next fall.  He had a tough, rather unpleasant year this past year.  I would like to see him go to the Junior High on the West side of town, near where we now live – but he is determined to go to the school on the other side of town, our old neighborhood school.  I am hoping he will change his mind before the fall term.  But for now, we get ready for Sixth Grade Camp. 
He comes home from Sixth Grade Camp – with pneumonia.  
But he does recover, and the school year does end, with Dalton graduating from the 6th Grade.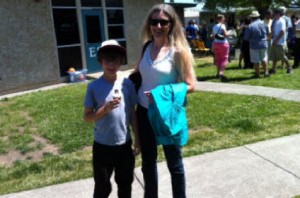 He is now ready for Junior High!  I just hope he will make the right decision about which school he'll go to!  And as the school year comes to a close, Ken finally moves out and over to his new home – my former home.  Finally, my son and I can start to make this place feel like our home.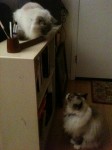 The cats, while adjusting to the fact that they both live here, still are not exactly getting along.  "Cat Wars" have become rather a regular occurrence around here – much to our frequent alarm and annoyance.  But slowly and surely we are all starting to adapt to our shared living situation.
I realize I have not been doing any drawing for a long time.  For some reason I start to draw birds – odd, colorful little birds – here are a few of them: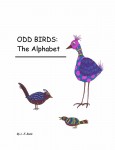 It's fun and I keep doing more and more of them until I have 26 birds.  An alphabet book perhaps?  Full of silly birds?
You can see all of these birds on my website.  (You may need to email me for a password.)
And then on June 14th I BOUGHT A CAR.  Summer is looking a bit more hopeful.

At least now we can come and go as we please without having to rely on my dear sister (with all the added wear and tear on her little Jeep!); we are all grateful for this lucky find – thanks to my brother!
At some point, I realize that I have not seen or heard from Louis for quite some time (since around Christmastime last year).  It's like we just sort of slipped away from each other.  It is possible (or probable) that he met someone else.  Perhaps someone who was more "convenient" – we did live a fair distance apart.  And it seems that we really didn't have as much in common as we first thought, at least in my opinion.  Louis was very kind, thoughtful; I had fun with him, I felt affection for him.  But I don't believe either one of us could see ourselves being in love.  But it is kind of odd that we slipped apart in such a way that I hardly noticed it.  I wonder if he did; did he make the choice to not contact me or see me again?  Because I didn't.  It just sort of happened.  Weird.  Well, it appears that I am not presently in the right space to be engaged in a relationship.  Louis was good for me when the time was right.  I just hope he doesn't feel I did him wrong in any way.  I'm embarrassed now to contact him, but I do hope things are going well with him, and with his son.  Dalton has asked after the two of them.  It's hard to know what to tell him… 
I made a birthday card for my sister:  I have decided that I may never again BUY a greeting card…
Summer brings some difficulties:  I become concerned that my son is spending too much time in his room alone, playing online games. This becomes a problem that I must deal with; one which causes me a lot of angst.  I am wishing I could provide my son with a better summer vacation.  
But his dad has promised a trip to the Midwest to visit relatives.  Dalton is excited about the prospect.  I am nervous, but happy that Dalton has the opportunity.
And then the reality of a trip never adequately planned, but only that of "wishful thinking" crashes down on my son's expectations and leaves him feeling like his dad has once again disappointed him and lied to him.  He is heartbroken and angry.  I suddenly have the idea of taking him down to see my father in Los Angeles.  And Dalton is extremely happy about the prospect.  I discover that I can easily afford to take the train and after contacting my father, the trip becomes a reality.  We plan to go in August and I buy the tickets.  It is all set, and I am so pleased to be able to do this for Dalton!  It will also be wonderful to see my dad.

Dalton's summer suddenly has gotten better.  He is still worried about Junior High, but perhaps I can help him with this.  With my sister's help, I prepare a comparison chart to help him choose which school would be the best choice.  He knows which school I prefer, but I am willing to let him choose.  We can discuss it all when we are on the train.  
And soon the day arrives:  We are going to L.A. – Redondo Beach, actually.
The train ride was kind of fun; neither of us had ever ridden on a train before.  But it was rather a long day; we were happy to arrive!  And it was very good to see my father; it had been way too long.  Dalton and I both had a very, very nice time and it was hard to have to come back so soon – but the new school year was just around the corner!
And finally, after difficulties making this important decision, Dalton is enrolled at the junior high school that I was hoping he would choose.  Now I just hope he will be happy.  
In September, I made a card for my brother on his birthday (rather silly, but hey… we're family):

Fall goes by quickly, working on the house and unpacking, dealing with school and other responsibilities, trying to adjust to living with my sister.  I start to go back to work on my "frog" illustration project:
and I decide to move forward with trying to publish my "Little Pig" book and write a query letter, which I submit to someone who assists with such things – and she posted my query letter (with her comments) on her blog.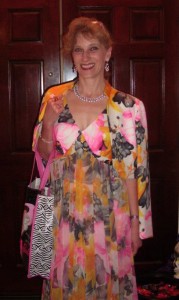 I decide to be 'brave' and go to my friend Cindy's Halloween party alone.  Because of the recent change to my hair (which already needs to be re-done), I decide to go as "Barbie."
None of the pictures of me this night looked very good.  Photos just did not do justice to this amazing dress.  (My hair looked better than the photos show, as well.)  And I really don't know anyone who goes to these annual parties other than Cindy.  But it's still kind of fun.  I try to be social, when I can!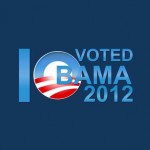 Fall was, of course, full of the Presidential Election.  I really struggled over this stuff this year.  I had never before been exposed to Fox News and I was frankly extremely appalled and horrified by what I saw there.  All I can say is that I feel very fortunate that President Obama was re-elected.  
Thanksgiving was pleasant with the family and it was soon Christmas and the end of the year.  I made a new Christmas Card: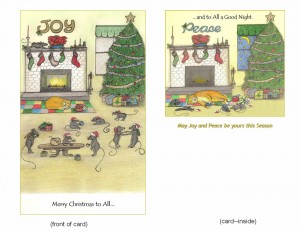 I have four different cards now:
Molly bought a pack of this year's cards from me:  my first sale.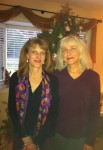 An interesting thing took place shortly before Christmas:  I unbelievably ran into my x-husband  – and while I was in a state of minor shock at the time, it actually was rather humorous.     I wrote about it here in "a storage unit story."  
Christmas was nice, as always – a very small, intimate one this year with only my brother, my sister, my son, and I.  But we enjoyed it.
So, finally, what has this year been about?  
Changes.
Adapting.
Raising my son.
Pursuing my dreams.
TRANSITION.
Molly did not do a "Goals Group" this year.  And actually, I did not seen her from the time my old car broke down until I delivered the Christmas cards to her that she bought from me.  But I fully intend to not only start seeing her regularly again, but to use the knowledge and tools that I have received from her over the years and which I have put here in this Blog for that purpose.  
I did a "soul collage" to reflect how I felt about this past year.  I meant to do another one showing my hopes for this next year but then realized that they probably aren't much different than they have ever been.  Let's just hope this next year I actually accomplish some of them!