September, for me, has always meant SCHOOL (although, these days, school seems to start earlier and earlier every year.)  And here in Northern California, our hottest weather often occurs in September and I always feel sorry for the school kids – especially since much of the summer is cool and foggy – and now that it finally feels like summer—SCHOOL STARTS!
But this year, I am embarking on the challenge of teaching my son myself.  So we are able to start school whenever we desire, and I think September 2nd, the day after Labor Day, seems the appropriate time.
However, it's been a bit difficult to adjust after our vacation, so we didn't actually start until yesterday, and it's been slow going so far trying to get my son in the "groove." I still have some things to organize and figure out as well until we're really on a roll. But I am hopeful that it will be a good school year all in all.
So, for my "theme" this month, I have drawn lots and lots of school books!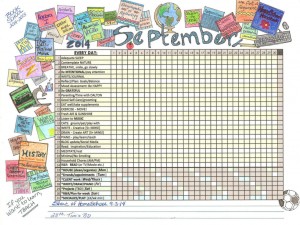 31-point-plan
Happy studying!