5/17/14
Two things are on my mind first thing this morning: The first thing is that it has become quite clear to me that physical therapy is making me worse. I was in no pain yesterday until after physical therapy and not only was I in a lot of pain then, but I still am. It feels like I have completely retrogressed and I am not happy about that. I have been wondering about this ever since the start of therapy but I am quite sure now. I was doing just fine with the chiropractor and acupuncturist and now it's like all that work has been UNDONE. I am just so sick of this!
And as if that isn't enough – yesterday afternoon I got a text message and strange voice mail from my x-husband. He was in some kind of distress and indicated that perhaps 'I could help him get some perspective.' Huh??? So I called him. And it took a while before I could understand what exactly he was talking about, he was kind of hysterical and it was all very convoluted. He was at the hospital, but I couldn't make heads or tails about why or what he was calling me for. UNTIL I finally understood that he was not a patient at the hospital, but was there because a woman he had previously dated had just given birth – to his child! OMG
So he was talking about the fact that MY son now has a new sibling, a half-brother. WHAT??? I asked him not to tell my son yet – first of all, Dalton might not be too pleased about his father suddenly having a new baby when he has never been much of a father to him. And is the mother going to keep this child? From what I hear, she is sort of a sad mess – which makes this a rather sad tragedy where the child is concerned. I imagine I will have to tell Dalton – preferably before his dad blurts it all out to him. But I think it would be best to first find out what is going to happen. Goodness, what a weird thing…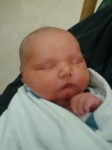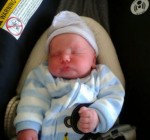 He sent me photos.  Is there a resemblance to Dalton's baby pictures?
Here is Taylor Allan, born 5-16-14, 20″ long, 7 lbs, 15 oz., hazel eyes.
And here is Dalton Lee, born 2-3-2000, 20.2 inches long, 8 lbs, 5 oz., and very deep blue eyes.
Hard to believe it's been nearly 14 1/2 years since my angel was born.
On the day I wrote this post, I was inspired to pull out all the baby pictures.  And here is one that I came across that I have no memory of – but which caused my sister and I to howl with laughter.  This must have been a STRANGE day!  LOL
Yep, strange all around…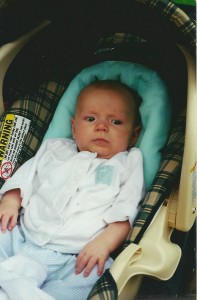 And I think I will post more of my son's baby pictures – to start with, this is one of my favorites.
And, strange as it is, this experience has simply brought it all back to me – all the joys and sorrows.  But oh how I love my son.  🙂